Lusine Karapetyan
Muhin hospital, Moscow, Russia
---
Posting Dates: March 15 - March 31, 2022
25-year-old G1P0 with no remarkable past medical history  was referred  to our unit at 25 weeks of gestational age. First and second trimester scans were reported to be normal.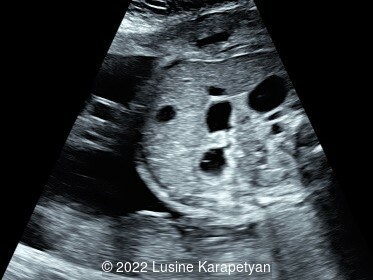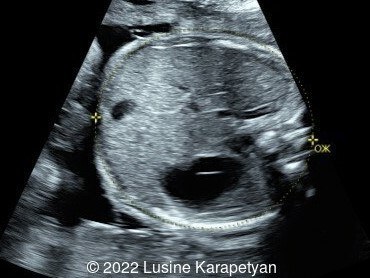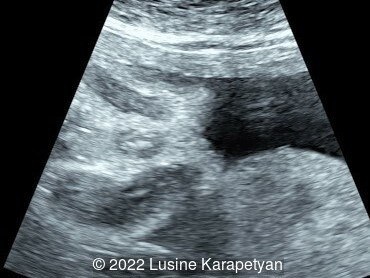 View the Answer Hide the Answer
Answer
Ultrasound evaluation revealed a dilated stomach, duodenum, and presumably the proximal part of the jejunum. The amniotic fluid index was 17 cm. Our diagnosis was small bowel obstruction (most likely jejunal or jejunoileal atresia). At 35 weeks, 3 days gestation, the patient was admitted due to preterm labor and delivered vaginally a week later. The diagnosis of jejunal atresia was confirmed after birth and surgery was performed. The neonate's subsequent course was uncomplicated.
Discussion
Small intestinal atresia is the congenital absence or narrowing of the intestinal lumen leading to obstruction, and can occur in the duodenum, jejunum or ileum. Duodenal atresia results from a failure of recanalization of the duodenum during embryonic development, while jejunal and ileal atresia are caused by a vascular accident in the corresponding branches of the mesenteric arteries [1,2]. Thus, duodenal atresia is considered separately from jejunal and ileal atresia. In a population-based study from England, the prevalence of small intestinal atresia is 2.6 in 10,000 births. Approximately 67% are located in the duodenum, 30% in the jejunum and ileum, and 4% had multiple atresias, giving a prevalence of 1.8 in 10,000 births for duodenal atresia and 0.81 in 10,000 births for jejunal-ileal atresia [2].
Both duodenal and jejunal-ileal atresia can occur in conjunction with other chromosomal and congenital anomalies. Duodenal atresia is associated with chromosomal anomalies in 36% of cases, most commonly Trisomy 21, as well as structural anomalies such as cardiovascular defects (16%), musculoskeletal defects (6%), and renal defects (3%). Jejunal-ileal atresia can be associated with gastroschisis, volvulus and malrotation in approximately 14% of cases [2], as well as cystic fibrosis in 8% of cases [3].
Small intestinal atresia can be difficult to diagnose prenatally. Duodenal atresia presents with the "double bubble" sign and polyhydramnios on imaging, and is detected prenatally in 52% of fetuses [4].  In jejunal-ileal atresia, ultrasound findings can include dilated loops of bowel, a dilated stomach, polyhydramnios, and echogenic bowel. If there is bowel perforation, ultrasound can demonstrate ascites and meconium peritonitis. Prenatal detection of jejunal-ileal atresia is 40% in a study reviewing eighteen congenital malformation registries in eleven European countries [4].  In a metanalysis of 16 studies, encompassing more than 600 fetuses, the detection rate of jejunal-ileal atresia varied widely between 10 and 100%, with overall rate of 50% [5]. A recent study suggested that the "C sign," which visualizes a dilated duodenum, could be used to distinguish between jejunal and ileal atresia prenatally. Their findings suggest that jejunal atresia are more commonly associated with the "C-sign" and polyhydramnios compared to ileal atresia given the more proximal location in the gastrointestinal tract [6].
The differential diagnosis for jejunal-ileal atresia include intestinal duplication cysts, meconium ileus, as well as large bowel obstructions caused by colonic atresia, Hirschsprung's disease or imperforate anus.
Neonatal outcomes in jejunal-ileal atresia are usually good however, patients can develop short gut if a significant portion of the intestine is involved, with dependency on total parenteral nutrition and the associated complications of sepsis. Survival in a series of 25 patients with surgically proven jejunal or ileal atresia was 88% [7]. In a study reviewing small intestinal atresia, survival at 1 year was 91% [2].
References
[1]    Louw JH, Barnard CN. Congenital intestinal atresia; observations on its origin. Lancet. 1955 Nov 19;269(6899):1065-7.
[2]    Hemming V, Rankin J. Small intestinal atresia in a defined population: occurrence, prenatal diagnosis and survival. Prenat Diagn. 2007 Dec;27(13):1205-11.
[3]    Siersma CL, Rottier BL, Hulscher JB, et al. Jejunoileal atresia and cystic fibrosis: don't miss it. BMC Res Notes. 2012 Dec 7;5:677.
[4]    Haeusler MCH, Berghold A, Stoll C, et al. Prenatal ultrasonographic detection of gastrointestinal obstruction: results from 18 European congenital anomaly registries. Prenat Diagn. 2002 Jul;22(7):616-23.
[5]    Virgone C, D'Antonio F, Khalil A, et al. Accuracy of prenatal ultrasound in detecting jejunal and ileal atresia: systematic review and meta-analysis. Ultrasound Obstet Gynecol. 2015 May;45(5):523-9
[6]    Chen D, Tam KH, Xiao Y, et al. New sonographic feature (C-sign) to improve the prenatal accuracy of jejunal atresia. J Obstet Gynaecol Res. 2021 Dec;47(12):4196-4202.
[7]    Wax JR, Hamilton T, Cartin A, et al. Congenital jejunal and ileal atresia: natural prenatal sonographic history and association with neonatal outcome. J Ultrasound Med. 2006 Mar;25(3):337-42.
Discussion Board
We appreciate your patience as we review all submitted answers. Check back soon to see if you were correct!
Add bookmark
Bookmarked